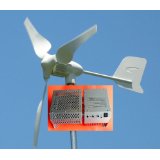 Windmax HY400-3 450 Watt Max 12-Volt 3-Blade Residential Wind Generator Kit


From the Manufacturer

Our high performance, reliable WindMax wind turbine features advanced electromagnetic over speed control, aerodynamic blade speed limitation, solar/wind dual output capability, reliable light weight generator design using die-casting technique and high performance rare earth neodymium magnets, advanced airfoil designed blades made of mixed nylon and reinforced fiber glass using injection molding and thermoplastic technologies for consistency, high strength.
HYenergy Windmax Wind Turbines are the one of the most well built, reliable, most efficient and cost-effective small wind turbines available on the market today. The HYenergy Wind turbine system is the perfect choice in a smart investment for a renewable energy solution built on advanced technologies. The HYenergy wind turbine system defines a new level of superior performance and reliability in the small wind turbine industry.
Brushless, strong Neodymium magnet PMA, unique winding and multi pole design reduce the start-up torque of the alternator to assure the HYenergy wind turbine have great performance at low wind speed. Designed with both reliability and performance in mind, HYenergy Wind Turbines feature maintenance free design, high reliability and consistent performance. The result: greater energy production yield for all wind speeds and lowest ownership cost.
A small home wind turbine is a long term investment. Windmax H series wind turbines lead the small wind turbine industry by eliminating problematic mechanical furling over speed control which requires a lot of maintenance and causes wind turbine failure.
Windmax H series wind turbine improves the reliability and performance by advanced electromagnetic speed limitation supplemented by aerodynamic speed limitation by blade deformation. Electromagnetic braking is used in combination with Aerodynamic braking to reduce the rotational speed of the generator in high wind condition.

Product Details

Item Weight: 60 pounds
Shipping: Currently, item can be shipped only within the U.S.
ASIN: B001CZGFKQ
Item model number: HY400 3 Blade